DF IT Solutions can help you to create a software-based, or virtual, representation of your applications, servers, storage or networks. This is the single most effective way to reduce IT expenses while increasing efficiency and agility for businesses. We can help you to improve IT agility, flexibility and scalability while creating significant cost savings. Superior workload mobility, increased performance and availability of resources, automated operations. These are all benefits of DF IT Solutions` virtualization services that make it easier to manage and less costly to own and operate.
Server Virtualization Service
Whether you are about to make the progression to the world of virtualisation or you require some corrective assistance with an existing virtual environment, our technicians will make sure that your future virtual experience is functional and efficient.We will combine your servers, improve flexibility and free up your resources for potential success. Server virtualization allows multiple operating systems to run on a single physical server as highly efficient virtual machines.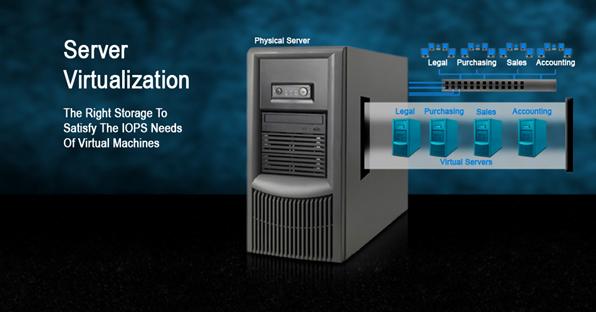 • Server consolidation
• Faster recovery solutions
• Increased application performance
• Higher server availability
• Improvement on IT efficiency
• Reduced operational costs
• Faster workload deployment
• Eliminated server sprawl and complexity
• Greener IT via reduced power consumption and improved efficiency of hardware utilisation
Key advantages of DF IT Solutions` server virtualization service are:
Desktop Virtualization Service

Desktop Virtualization allows you to use application from a centralized server. Virtualized desktops and applications can also be rapidly and effortlessly delivered to branch offices, outsourced and offshore employees, and mobile workers using iPad and Android tablets. DF IT Solutions can help you to improve your client computing experience, reducing your desktop service, and empowering you to respond faster to changing workplace needs and emerging opportunities.
Key Advantages
Secure, mobile access to applications.
Allowing employees to work remotely on or off hours from their own devices, accessing even high-performance applications by allowing hardware-based GPU sharing through a secure connection from any device, on even high-latency, low-bandwidth networks such as hotel room Wi-Fi.
Using desktop virtualization allows enterprises to provide just a few types of desktops to its users, reducing the need to configure desktops for each employee.
Virtualized desktops also allow for easier desktop maintenance. The desktop can be reset daily, removing any downloaded software or customizations that may have been added to the computer.
Desktop virtualization allows the administrator to set permissions, avoiding documents carrying Trojan horses from residing on the system.
Software licensing requirements are reduced, and there are cost savings on applications. You can save money in the IT department, as less staff is needed to manage desktops and troubleshoot user problems.
Applications Virtualization
The application virtualization service removes the obligation of the app from staying on one operating system.  It improves mobility, reliability and cost reduction. In a large organization tracking software license, rolling out operating system, applications can be inconvenient. Application virtualisation manages your application making it all easy.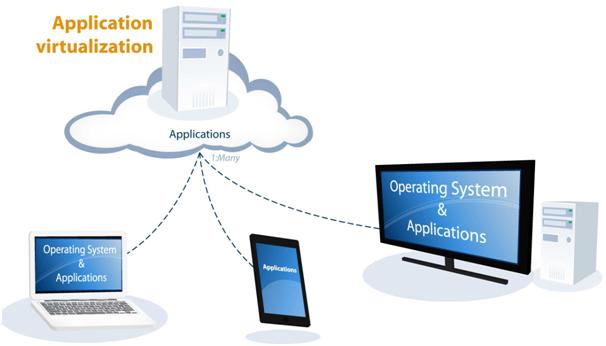 Basically, the application virtualization fools the computer into working as if the application is running on the local machine, while in fact it is running on a virtual machine (such as a server) in another location, using its operating system (OS), and being accessed by the local machine. Incompatibility problems with the local machine's OS, or even bugs or poor-quality code in the application, may be overcome by running virtual applications.
Administrators only need to install an application once to a centralized server rather than to multiple desktops.
Simpler to update applications and roll out patches.
Administrator can deny access permissions to the application without having to uninstall it from the user's desktop
virtualization makes it possible to run applications that might conflict with a user's desktop applications or with other virtualized applications.
If a computer is lost or stolen, sensitive application data stays on the server and does not get compromised.
Users can also access virtualized applications from their clients or non-Windows computers.
The applications are immediately available, without having to wait for long install or load operations.